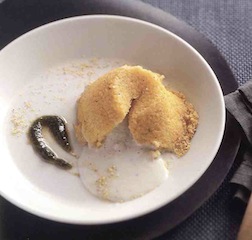 Polenta pie with leaking heart of Squacquerone of Romagna D.o.p.



PREPARATION: for 4 people 25 minutes


COOKING:15 minutes


300 g of polenta prepared the day before


150 g of Squacquerone di Romagna D.o.p.


20 g butter


Maize flour


water


Salt


30 g of pesto genovese


Place the polenta in the bowl of a blender blender, add a little water and blend until you have a thick cream, if necessary, add more water.


In a large bowl, crush the squacquerone of Romagna d.o.p in order to obtain a cream.
Grease four moulds and sprinkle with maize flour.


Fill in with the polenta cream the moulds till to half of their height.


With the help of a spoon, make a hollow in the centre of the polenta, pour a tablespoon squacquerone cream and finish filling the moulds with the polenta cream.