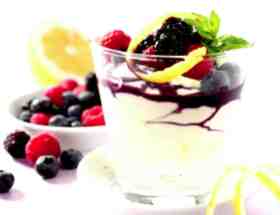 For the mascarpone cream

250g of mascarpone

3 eggs

130 g. of sugar

1 untreated lemon

2 spoons of limoncello

300g of berries ( strawberries, raspberries, blackberries )

1 sprig of mint, salt.

In a bowl, whip the egg yolks until stiff with sugar and a bit of salt, till they are swollen and soft. Add mascarpone, limoncello and a bit of grated lemon zest. Whip the egg whites until stiff and add them gently to the mixture. Pour the cream in single cups and store in the fridge to firm. Prepare the berries sauce by heating a pan with half the well-washed fruits; add 1 spoon of sugar and 1 of water.
Cook for 5 minutes, adding more water if necessary. Before serving the mascarpone cream, season with berries and decorate with 1 mint leave.