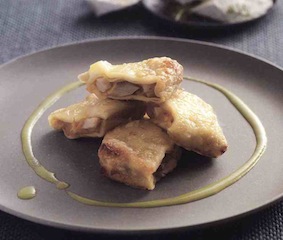 Cannelloni of pumpkin and porcini mushrooms with truffle
caciotta
Canelloni of pumpkin and porcini mushrooms with truffle caciotta


PREPARATION: per 4 persone 30 minuti


COOKING : 22 MINUTES


REST: 1 HOUR


CANNELLONI


100 g FLOUR 00


100 g semolina flour


6 egg yolks


FILLING


200 g of boiled pumpkin


150 g of porcini mushrooms, cleaned and cut into small cubes


30 g of extra virgin olive oil


20 g of butter


125 ml of white wine


100 g of truffle caciotta


1 garlic glove


Parmesan or grated Grana padano cheese


salt and pepper


50 g of pea cream


Mix the two flours with the egg yolks until the mixture is smooth and homogeneous.


Cover with a cloth and let stand for 1 hour at room temperature.


Roll out the pasta dough in 2 mm sheets.


With the help of a knife, cut the dough into rectangles of cm 8x5.


Boil the pasta in a lot of salted water for 2 minutes.


Cool them in water and ice and dry them on a clean, dry cloth.


Blend the pumpkin so you get a nice cream.


In a non-stick pan, pour oil, sear for 2 minutes and the peeled clove of garlic.


Remove the garlic an add the mushrooms, sear for 2 minutes, add salt, pepper and pour over the wine.


Bake until complete evaporation of the wine.


Add butter and remove from the heat.
Let cool,in a large bowl, place the cream of pumpkin, the mushrooms and the truffle caciotta cut in little cubes, if needed, add salt and pepper and blend the mixture.


Roll out the pasta rectangles, lay on the long side the pumpkin mixture, porcini mushrooms and truffle caciotta.


Roll on the short side and arrange the cannelloni in a greased baking tin, sprinkle with a little Parmesan cheese and bake in preheated oven at 180°C for 12 minutes.
Remove the cannelloni from the oven, cut them into four pieces and put them in the plates overlapping them.


Finally, decorate the dishes with hot cream of peas.