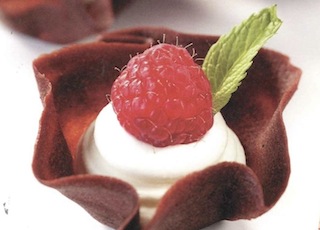 Cocoa wafers with Mascarpone Cream.
INGREDIENTS:
80 g. of butter
1 egg white
80 g of  "00" white flour
20 g di unsweetened cocoa powder
80 g of icing sugar
15 ml of dark rum
FOR THE CREAM:
120 g of Mascarpone Artigianale Mambelli
100 g of squacquerone Mambelli
15 g di Vanilla icing sugar
TO DECORATE:
150 g of raspberries
Mint leaves
-Wisk in a little bowl the egg white with icing sugar; then add rum and melted butter.
-Stir in the sifted flour and cocoa and work the mixture a little, till it gets elastic and sticky.
-Let it rest in the fridge for 20 min. and heat the oven at 200° C.
-Lay some baking paper on a baking pan and, with the back of a spoon, make circles of 5 cm of diametre with little quantities of dough.
-Bake for about circa 5 min.and, when removed fron the oven, wrap them with still hot wafer on the bottom of overturned cylindric moulds. Let dry for 1 min. pressin the borders, then detached them.
-Work like a cream the two Mambelli's cheeses with vanilla icing sugar, whipping with the wisk.
-Form two small tufts on the bottom of the tartlets and finish with 1 rasperry and a mint leave.