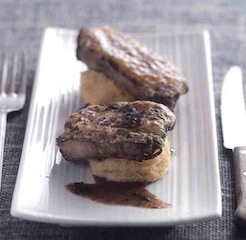 Boneless Pork ribs baked with caciotta at Cervia salt
PREPARATION: For 4 people 40 minutes


COOOKING: 1 hours and 45 minutes


PORK RIBS


1 kg of pork ribs


250 ml of white wine


250 ml of red wine


250 ml of water


100 g of Caciotta with Sale di Cervia


100 g extra virgin olive oil


10 pepper grains


3 cloves


1 onion


1 stalk celery


1 carrot


1 bay leaf


1 sprig rosemary


1 clove of garlic


salt and pepper


POLENTA


1/2 litre of water


150 g of maize flour for the polenta


salt


PORK RIBS


Clean the carrot and celery and cut in little pieces. Peel the onions and slice it.
Lay in a large bowl the carrot and celery, onion, bay leaf, sprig rosemary, garlic, pepper grains and cloves.


Add to the vegetables white and red wine, water and extra virgin olive oil.


In a pan, fry the ribs with salt and pepper.


Place the ribs on the previously prepared vegetables and cook in preheated oven at 150° C for 60-75 minutes


Remove the ribs from the pan and discard the bones.


This operation will be rather simple because, once cooked, the bones of the ribs will tend to come off easily.


Lay the boneless ribs in a plate lined with parchment paper, cover with caciotta with salt of Cervia cut into slices and bake again for 5-7 min. to brown the caciotta.


Filter the cooking juices left in the pan adjusting with salt and pepper.


POLENTA
During the cooking of the ribs, boil water with salt, turn off the heat and add maize flour and pour slowly the maize flour whisking vigorously; no lumps shall remain.


Turn the heat on under the polenta and, with the help of a wooden spoon, turn or, as they say "calibrate" the polenta, from time to time.


PRESENTATION
With the help of a spoon, form two quenelles of polenta in each plate, put over the pork ribs and finish cooking with filtered sauce au gratin.