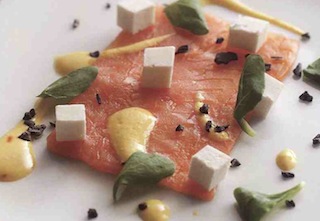 SMOKED SALMON, PRIMOSALE, YOGURT SAUCE AND SAFFRON

PREPARATION for 4 people, 10 minutes
INGREDIENTS:
400 g of smoked salmon 
80 g of primosale with cervia sweet salt (cut into cubes)
20 leaves of valerian
10 g of cocoa grue (roasted cocoa beans cut in small pieces )
YOGURT SAUCE AND SAFFRON
1 cup of whole yogurt (about 125 g)
2 g of saffron
10 g of extra virgin olive oil 
salt
YOGURT AND SAFFRON SAUCE
Pour yogurt in a bowl.
Add oil and saffron,emulsify with a small wisk till the saffron and the oil will be well combined.
Add salt and store in fridge.
SALMON
Cut the salmon into small slices and slightly beat it between two sheets of baking paper, trying to give to the slices a a rectangular shape, then store in the fridge.
PRESENTATION
Pull out the salmon from the fridge and cut it evenly in the plates, add primosale cheese with sweet Cervia salt, decorate with sauce, add leaves of valerian and finish by sprinkling cocoa grue.