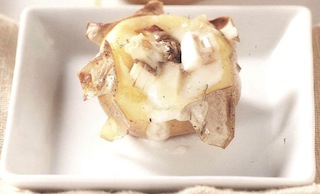 Fondant Potatoes with Porcini Mushrooms and Caciotta with Cervia Salt.
INGREDIENTS:
16 little potatoes
2 medium-sized porcini mushrooms
200 g of Caciotta withsweet Cervia Salt
2 cucchiai di olio d'oliva extravergine
Thyme
Salt
PREPARATON:
- Wash well the potatoes and cook them starting with salty cold wateruntill they will be tender in their centre.
Let cool.
- Meanwhile chop the caciotta. Clean very carefully the mushrooms with a damp paper towel, cut into little cubes and mix with the caciotta.
- Remove the upper part of the potatoes and dug a little in the centre with the add of a spoon.
Stuff them with the mixture of mushrooms and caciotta previously obtained and season with thyme and olive oil.